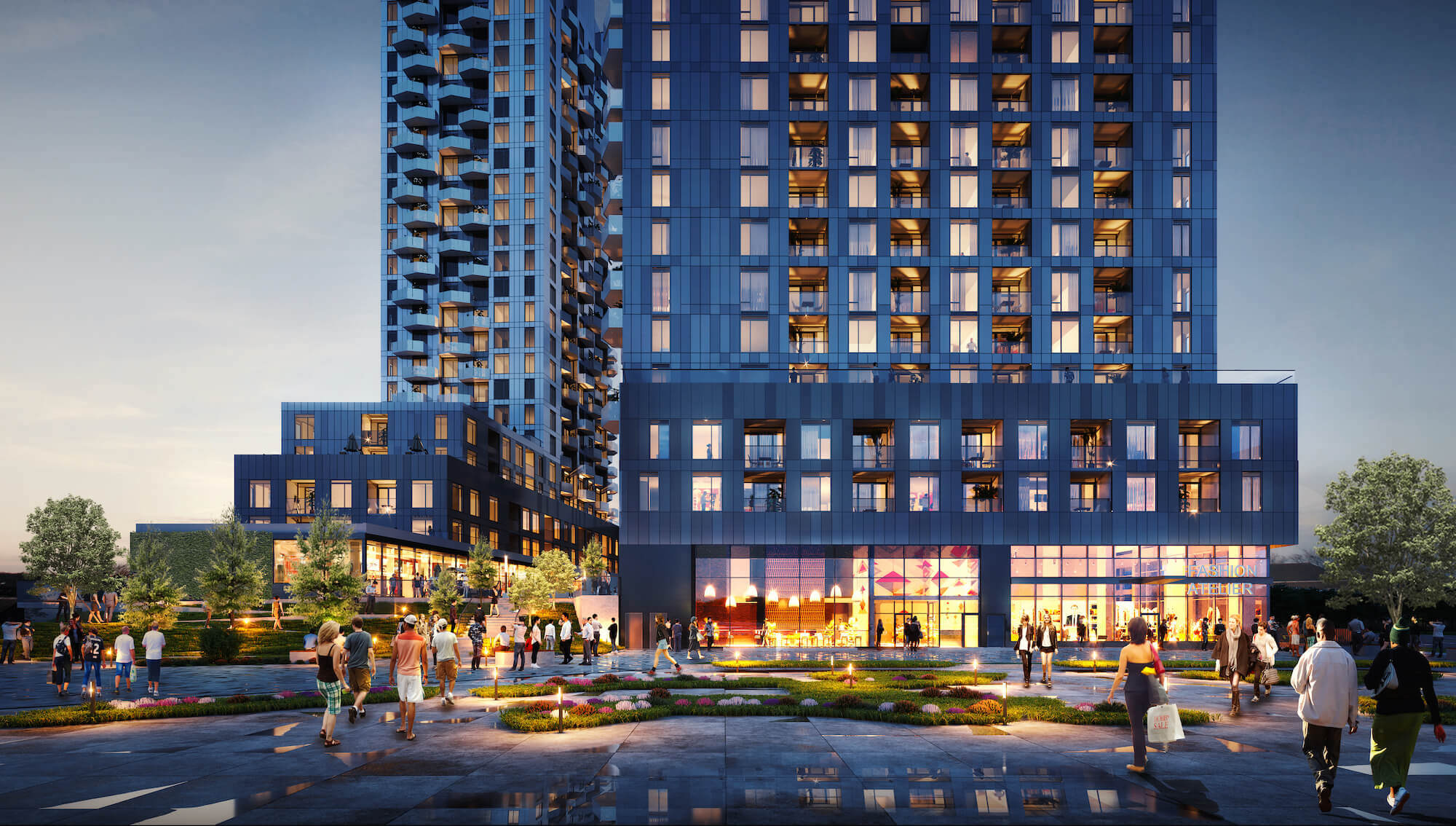 About Abeja Condos
Cortel Group is proud to introduce a luxurious preconstruction condominium building set to break ground in the heart of Vaughn.
As an experienced developer that knows location is key, finding the perfect spot in Vaughn for Abeja Condos was paramount. It is conveniently located at Jane St. & Rutherford Rd, offering upscale living to residents in the area.
Cortel Group is known for designing and constructing buildings that feature exceptional architecture and exquisite detail. Abeja Condos is no different.
The word "Abeja" means "Bee" in Spanish and is fitting because it captures the vision the architects had in mind when the project was conceptualized. Bees are social creatures and live harmoniously in large communities. The idea behind this brand-new development is to create a sense of community and a haven for residents occupying the building.
Abeja Condos boasts a living experience like no other with 27 storeys towering majestically in the city's core and featuring 26 modern floor plans intricately designed by award-winning architectural firm Quadrangle Architects.
Many of the preconstruction decisions for Abeja Condos centered around creating a community anyone would love to live in and a lifestyle we knew would appeal to families. So it was critical for us as a company to go the extra mile to ensure Abeja Condos offered the very best living experience for families in Vaughn.
Abeja Condos occupancy is slated for September 2022 with a VIP Launch date to be announced in the coming months.
The amenities at Abeja Condos include:
Bar
Barbeques
Fitness Room
Games Room
Lounge
Movie Theatre
Dining Room
Outdoor Patio
Artist Studio
Wellness Spa
Yoga Room
Work Hub
Private Party Room
Indoor Pool
Features & Finishes
High ceilings
Abeja Condos offers lavish interior design accompanied with modern fixtures the enhance your living experience. Each floor plan features high (9 feet) smooth ceilings that open up the room and offer a variety of décor options, and suite sizes range from 505 – 1000 square feet.
Premium appliances
Included in each unit is our premium stainless-steel standard appliance builder package consisting of a top-of-the-line dishwasher, fridge and stove. We make sure our home appliances are correctly installed and ready for use before you occupy the unit. For your convenience, units come equipped with in-suite stacked laundry which maximizes space.
24-hour video surveillance
Feeling safe in your home gives you peace of mind and contributes to the wellbeing of your family. The security of our residents is of utmost importance to us. As a result, we provide 24-hour surveillance to ensure that the highest level of security is provided at all times of the day.
Luxury bathrooms
Enhancing your bathroom experience with a blend of natural materials, textures and colours, and a choice between a 5 feet deep soaker tub or shower – depending on your floor plan selection – and the floor of the bathroom is covered with modern tile flooring.
Modern Kitchen
Our units come with a spacious kitchen area and a choice of a variety of designer quartz or upgraded stone kitchen countertop finishes.
Abeja District Condos Specs
| | |
| --- | --- |
| Number of Storeys | |
| Floor Plans | |
| Suite Size Range | |
| Ceiling Height | |
| Price / sq ft from | |
| Parking Price | |
| Locker Price | Request Locker Price |
| Architects | |
Important Dates
| | |
| --- | --- |
| Est. Occupancy | |
| VIP Launch | |
Deposit Structure
Total Min. Deposit
Deposit Notes
%5 in 30 days
2.5% in 90
2.5% in 120
2.5 % in 180
2.5% in 365
2.5% in 540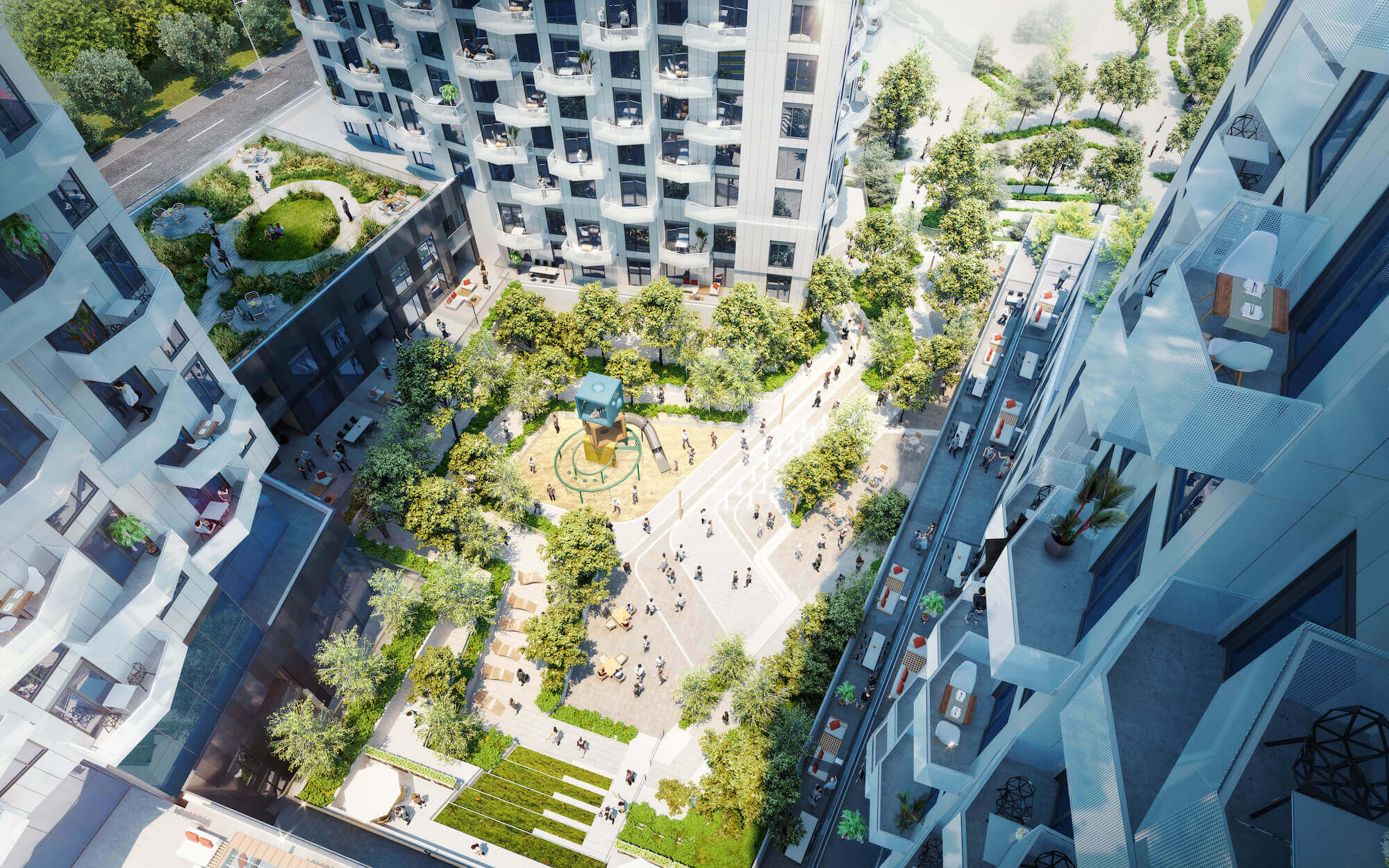 About Cortel Group Building Company
Cortel Group is a trusted name in the construction industry and is one of the leading condo developers in the Greater Toronto Area.
Established in the early 1970s, Cortel Group is a premier developer that has erected both commercial and residential properties across Ontario. Over the years, Ontario residents have come to expect more than just a well-designed residential building from Cortel Group. Every construction project bearing the Cortel Group name is more than just a building, it is a dynamic network of essential elements that contribute to the creation of valuable commercial and residential communities.
With every construction project, the building company aims to construct monumental buildings that exude extraordinary creativity, class and an architectural heritage that can be appreciated for years to come. With each construction project, Cortel Group is committed to excellence and specializes in creating family-friendly communities and green spaces in strategic locations that enhance the lifestyles of the families who occupy their residential properties.
From preconstruction planning to final touches, no detail is overlooked by the company's highly qualified team of engineers and architects.
Cortel Group has an impressive portfolio and prides itself in constructing developments using quality materials that are not harmful to the environment.
Contact Us Today
Abeja Condos as Great Investment
Many families in Toronto are exploring the possibility of relocating to neighboring cities like Vaughn that offer a great lifestyle and an escape from the ever-rising housing costs in Toronto.
Nestled in a safe and attractive neighborhood in Vaughn, Adeja Condos is an excellent investment because of its close proximity to the Vaughn downtown core and breathtaking scenery. Its convenient location allows homeowners and their families to live the kind of lifestyle they desire within a safe community. Abeja Condos is fast becoming a highly sought-after residential development in the city's downtown core, offering easy access to highways, transit, schools, shopping centers and much more.
Contact Us Today